The UI and UX design are both important factors in the development of software. Although we often see and hear the phrase UI UX design, they refer to two distinct but related aspects of a digital product.
If you've been curious about what is different between user interface design and user experience design, you've come to the right place. This article from Nexle Corporation will explore the significance of both, as well as the distinctions between the two of them.
What is UI UX Design? Are They the Same?
What is UI design?
User interface design (or UI design) is the process of designing the visual style of a software application with the end user. In short, it is in charge of defining the overall look and feel of a website or application. In addition to their efficiency, the user interface design should be clear and appealing to the eye.
Imagine every action that you may do on an app, such as sliding to delete, pulling down to reload, typing, etc. Designing attractive elements and animations that encourage interaction with the app is the key of UI design.
It might be challenging for providing a satisfactory answer to the question "What does a UI designer do?". Designers who work on user interfaces pay special attention to the eye-catching elements that users tap into to do actions. These may include features like the font, color palettes, buttons, animation, and other graphics.
It may also be used to describe the following:
Voice-controlled interfaces (such as Alexa, Siri, or Google Assistant)
Voice user interfaces (VUI's). Currently, they are taking steps to enhance the user experience by simplifying and speeding up multiple steps.
What is UX design?
User experience design (or UX design) is the process of strategically organizing a product's interaction with its end user. The interaction that each individual has with the products and services is the key focus of UX design. Its purpose is to make actions simple, logical, and satisfying when experiencing different services and products, whether they are digital or physical.
Imagine when you spend some time reading coffee maker reviews before purchasing a new machine. You are not just searching for a new piece of kitchen appliance. It is also about choosing a product that comes equipped with features that will provide an utilized time for you, the end user.
User experience designers will consider how the user will be inspired psychologically by the experience. Moreover, they should pay attention to how simple it is for the user to complete the actions needed.
Features such as an anti-drip spout, and an automatic shutoff are examples of those that meet the customer's requirements, optimize the product, and provide the user with greater independence. This is quite close to the way UX designers approach the task of making a website or app.
However, UX design is not limited to only physical and digital objects. It also includes the whole customer experience with a business, its services, and its products.
What is the difference between UI and UX Design?
The term "UI UX design" is among the most misinterpreted in the technology field. Even while both UI and UX design are important to the final result, they use completely distinct processes to get there.
Without UX design, a UI design is like a painter pouring colors onto a canvas. On the other hand, UX design without UI design is like a sculpture's framework without the paper mache.
UX comes first, then UI, when designing a successful product experience. Once the product's foundations are in place as expected, the user interface designer may begin rendering the final version. Every potential screen and touchpoint (such as clicking a button, scrolling a page, or swiping) is taken into account by the UI designer to provide a smooth productive journey for the user.
Imagine that, while the UX designer plans out the trip, the UI designer works on all of the details that make it possible for users to successfully finish the journey. However, that's not to suggest that UI design is just about appearances. UI designers should make a significance in how easy and accessible a product is.
To sum up, a key difference to is that user interface design focuses on the look and feel of a product's interfaces, while user experience design promotes the experience's entire feel and tone.
Look and Feel
The functions of UX UI design are similar yet distinct. A product's visual style, including its visual elements and its interactivity, is a key part of the UI design process. UX design, on the other hand, handles the user's general feeling about the product or service and the elements that will lead to a good first impression.
Design and Prototyping
In the same way, even though UX and UI designers have the same workplace, their roles and responsibilities are distinct. UI designers are responsible for the completion of products and designs that increase user engagement. Meanwhile, UX designers are responsible of developing wireframes and evaluated prototypes that form the core of a website's or service's user flow.
High-Level and Details
The attention to detail that UI and UX designers pay to their tasks is an additional area where they differ. UI designers focus on the details of each of the page interfaces and interactions, ensuring sure everything looks attractive and functions correctly. UX designers have a broader perspective on a product or service and make sure the whole user flow is effectively implemented and consistent throughout a website, service, or app.
How do UX and UI Design Work Together?
Good UI UX design are typically needed to create a product that customers would love to visit. Even if a UI looks great, if the user experience isn't thought through properly, it will be useless. However, no matter how well planned out a product's UX is, no one will take action without a well-designed interface.
Imagine financial software that not only looks good but also has a simple UI design. The website might include plenty of original, informative information that is easy to navigate and understand. However, if the site has a out-dated design or is difficult to navigate, visitors are likely to leave the page. Hence, no matter how beautiful an app may appear, it will be useless if the UX is poor.
For this reason, it's essential to put the demands of the end user at the center of every front-end development and design process. In order to properly understand what the final product should be designed, how it should function, and what it should include, UX and UI designers should work in coordination with other developers, managers, and product owners.
Why Is it Important to Know Both UI UX Desgin?
Imagine that you have a fantastic plan to create a new app that covers a hole in the current offerings. Moreover, it has an opportunity to significantly improve human lives. To help you map out the complete user experience and determine which features your app must have, you cooperate with a UX designer to conduct market research.
And when users download your app, they'll see that the content on every page is so small that it's almost unreadable. Or, the buttons are also too close together, leading to frequent accidental presses. The UI designer here to solve your problem.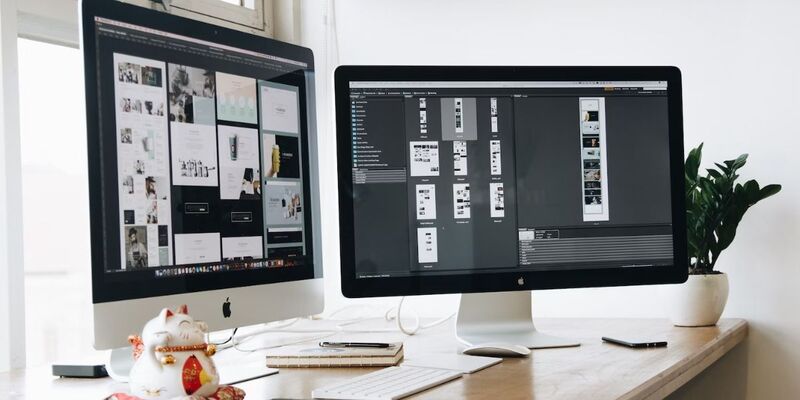 Therefore, UX and UI design are mutually supportive, and in today's market, it's crucial to know both effectively. Whether you choose to specialize in user experience design or user interface design, understanding something about the other is helpful. They're an essential part of running a successful company, but few people outside of the design and IT industries have in-depth knowledge of them.
To sum up, UI UX design can not stand alone. Once you have this knowledge, front-end development, as well as design, tends to be easier.
Nexle Corporation hopes this article helps clarify some of your questions about user interface and user experience. Reading up on our other posts to have a better idea of what they include and how they are important in life