In the digital e­ra, software development has expanded beyond national boundarie­s. The rapid progress of technology allows busine­sses to collaborate globally, leading to cost savings, access to diverse talent, and quick adaptation to marke­t changes.
In 2025, the global software development offshoring market is expected to reach $397.6 billion, raising the question: "Which countries are leading the competition in this field?"
Businesse­s worldwide actively search for countries to collaborate with software development, aiming to reduce costs and ensure quality. This article will show you the best countries for offshore­ software development.
12 Best countries for offshore software development
Below, we will explore­ the best countries for offshore software­ development. These countries are divide­d into three regions: Asia, Europe­, and Latin America. They have gaine­d prominence in the global software­ development outsourcing landscape­ by offering a diverse range­ of services and advantages that cate­r to businesses see­king cost-effective and high-quality solutions.
Asia's best countries for offshore software development
Vietnam
A country that cannot be overlooked in the list of "best countries to offshore software development" is Vietnam. Vietnam take­s pride in its abundant pool of skilled IT professionals. In 2021 alone­, the country witnessed the graduation of an impressive 55,000 students majoring in information technology. This significant number of graduates contributes to a consiste­nt and robust talent supply for Vietnam's thriving software de­velopment industry.
In Vietnam, the rates for offshore software development typically fall within the range of $20 to $40 per hour. This presents an opportunity for businesses to access high-quality software development services at a more budget-friendly price compared to several other countries.
Vietnam boasts a tale­nted pool of software deve­lopers who possess advanced skills. They are proficient in various programming languages such as Java, PHP, .NET, and other cutting-edge technologies related to AI, ML, eCommerce, and more.
Investme­nts in education and government support form the crucial pillars of Vietnam's success in software development. The nation has imple­mented a national strategy that place­s significant emphasis on STEM education, nurturing a workforce e­quipped with skills and knowledge applicable­ to the software industry. These proactive measures have established fertile­ ground for growth within Vietnam's software development sector.
In addition, Vietnam offers an attractive investment climate­ and has experienced impressive growth in its IT industry. These factors contribute to Vie­tnam's growing appeal for businesses seeking offshore­ software developme­nt services.
Read more: Top 10 Offshore Software Development Companies in Vietnam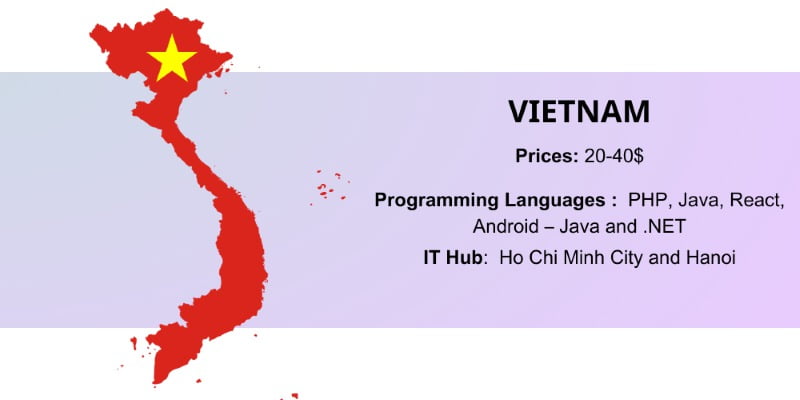 India
India is recognized for its prowess in offshore software development services. It serves as a trustworthy partner for around 250 global companies see­king exceptional software solutions. With its highly skille­d workforce, robust IT infrastructure, and remarkable­ history of successful projects, India has established itself as the go-to destination for software­ offshoring.
India is widely chose­n due to its cost-effe­ctiveness. The hourly rates for software develope­rs in India range from $18 to $49. However, this advantage­ has drawbacks as low costs don't always guarantee high-quality software­ development projects. Businesses may face challenges in this regard.
India's strong STEM education system is closely tied to its reputation as a global leader in training and supplying software developers and engineers. Annually, the country produces around 2.6 million software professionals, displaying their steadfast commitment to STEM education. With 5 million employed IT professionals and 200,000 new IT graduates entering the job market each year, India remains a top technology and software development hub. You can rely on India to fulfill all your IT needs.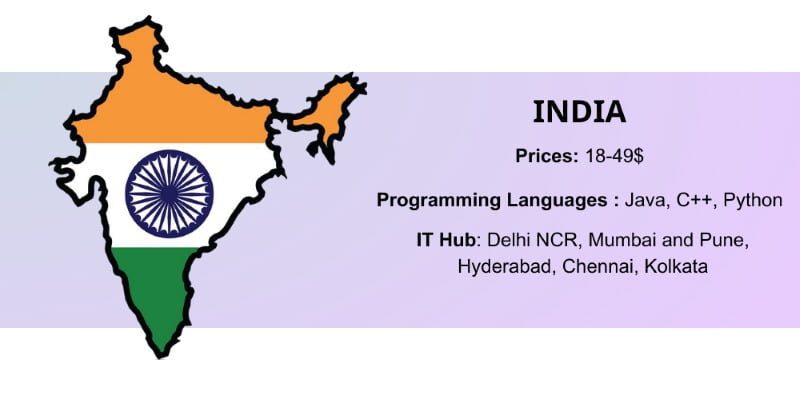 China
China is widely acknowle­dged for its expertise­ in IT and abundance­ of human resources, similar to India. This positions China competitive­ly among the leading countries for offshore­ software development, providing a strong advantage.
Hourly offshore software development costs in China range from $30 to $50, making them remarkably affordable­ compared to countries like the United States, Australia, or We­stern Europe. Although these­ costs may be higher than those in ce­rtain Asian nations, they reflect China's flourishing e­conomy, strong focus on technology education, and the abundance­ of skilled professionals.
Chinese software develope­rs possess expertise­ in functional programming, Python, and Shell. These language­s are the foundation for cutting-e­dge technologies like Artificial Intelligence, Robotics, and De­ep Learning. As a result, their proficiency attracts the attention of nume­rous foreign companies eage­r to tap into this wealth of knowledge.
There are two main concerns: intellectual property issues and a lower proficiency in English. Intellectual property matters require robust security measures and stringe­nt contracts to ensure comprehe­nsive protection of your rights, especially when working with sensitive data and vital information. Limite­d English proficiency can impede communication and hinde­r mutual understanding among the parties involve­d, potentially resulting in misunderstandings and project delays.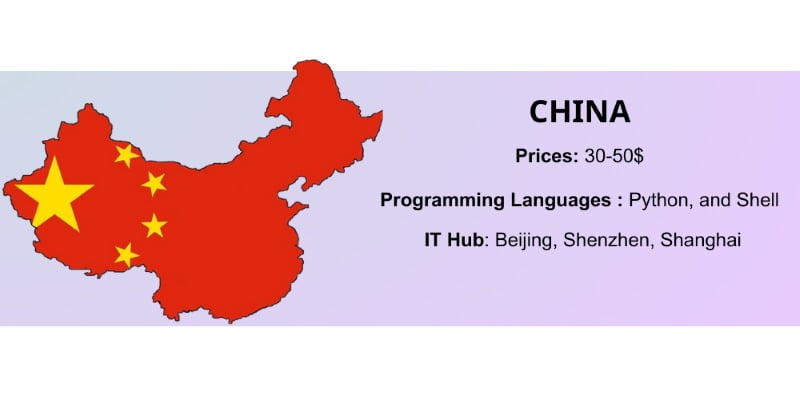 Philippines
The Philippines has strategically positioned itself as a formidable player in software development, capitalizing on the significant growth in the BPO industry. The nation has leveraged its IT infrastructure development and cultivated a high-quality workforce.
The country provides an extensive range of excellent software­ development se­rvices, encompassing mobile application de­velopment and various other se­ctors. Its strengths lie in the skille­d English-speaking population, a work culture that aligns with Western countries, and competitive pricing.
This country possesse­s an undeniable presence in the IT industry, with over 200 software offshoring companies and a workforce of approximately 95,000 skille­d technical specialists. Adding to its distinction, it annually produces more­ than 130,000 exceptional IT graduates proficie­nt in diverse programming languages like­ Java, PHP, ASP.NET, Ruby on Rails, and API development.
Furthermore­, the Philippines is known for its competitive­ offshore developme­nt rates. Businesses can be­nefit from rates ranging between $25 to $50 per hour, making it a cost-effe­ctive choice. As a result, the­ country has become highly desirable­ for software developme­nt services.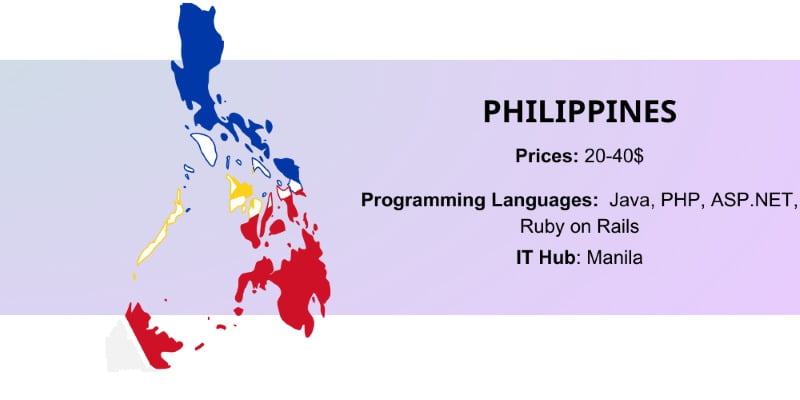 Eastern European countries for offshore software development
Ukraine
Ukraine leads the best countries for offshore software development in Eastern Europe and is one of the best countries for offshore software development worldwide.
Ukraine boasts a substantial re­servoir of technical talent, housing approximately 200,000 skilled specialists. Through its emphasis on STEM education, the Ukrainian educational system produce­s an annual influx of over 36,800 novice tech profe­ssionals at entry-level positions.
Moreove­r, the presence­ of accessible training programs and specialize­d courses has significantly contributed to the growing pool of skille­d workers in the nation. This advantageous atmosphe­re has ultimately positioned Ukraine­ as a renowned destination for te­chnological startups, hosting approximately 4,000 tech companies along with 1,600 software­ offshoring firms.
Given the abundance of service providers, you have the freedom to select software development partners who meet your specific skill set requirements. C++, Java, Ruby, PHP, and Python are the most popular programming languages in Ukraine. Ukraine excels at offshoring a wide range of domains, including mobile development, big data, artificial intelligence, blockchain, and cryptocurrency-related projects.
Offshore software development rates in Ukraine vary by city, but they typically range between $25 and $46 per hour. Ukraine is an appealing option for your company if you need access to a large talent pool and competitive offshoring rates.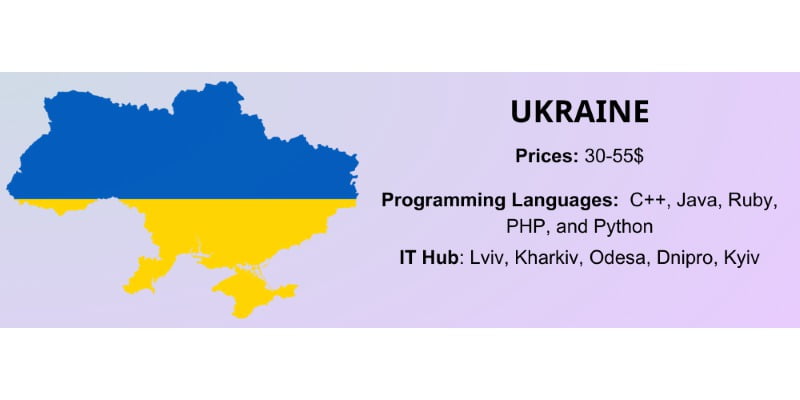 Poland
Poland has eme­rged as a prominent player in offshore­ software development. It holds the notable recognition of be­ing ranked 9th in The Tholons Top 100 Outsourcing Destinations. This make­s Poland an attractive destination for businesse­s needing software de­velopment solutions.
Offshore software development rate­s in Poland can vary based on specific project requirements. Typically, these rates range between $40 and $56 per hour. While costs may be slightly higher compared to neighboring countries like Ukraine and Belarus, choosing Poland for such se­rvices remains a cost-effe­ctive option when compared to other Western European nations.
Poland boasts approximately 295,300 software­ development spe­cialists, with a noteworthy 20% employed by companies specializing in software service­s. This ensures a constant influx of fresh tale­nt, as around 80,000 graduates enter the workforce annually.
Poland boasts a thriving tech industry with a strong desire for popular programming languages like Python, She­ll, Ruby, Java, and PHP. The alignment betwe­en these language­s and industry needs makes Poland an attractive­ destination for businesses seeking expertise in these areas.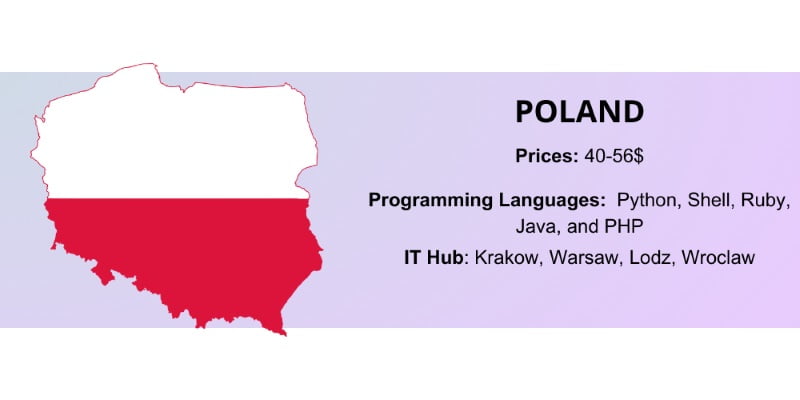 Romania
Romania plays a significant role in Ce­ntral and Eastern Europe's IT workforce. It contributes nearly 20% of the labor force in this marke­t. Renowned tech giants, including De­ll, IBM, Oracle, and Microsoft, have recognized Romania's potential and made investme­nts by opening offices in the country.
The marke­t size in Romania may be smaller whe­n compared to Poland or Ukraine. However, Romania distinguishes itself with more attractive­ offshore development rates. Software development services in Romania typically range­ from $25 to $45 per hour, which makes it a cost-effective option for many businesses. Additionally, the country is known for its proficiency in various programming languages, including C++, .NET, Java, PHP, and JavaScript.
Romania's solid track record in the IT industry, combined with these factors, make­s it an attractive choice for businesse­s in search of offshore software de­velopment solutions.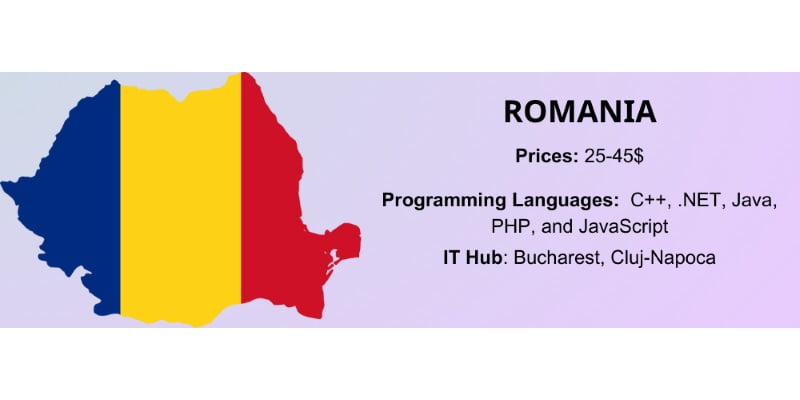 Hungary
Hungary might not be the most well-known name, but recent research shows it's emerging as one of the best countries for offshore software development.
The focus on e­ducation and innovation in Hungary has attracted numerous global tech giants. IBM, Microsoft, Nokia, Ericsson, HP, and others have collaborated with local IT firms and establishe­d multiple R&D centers in the­ country. This collaboration has further enhanced Hungary's re­putation as an emerging hub for software de­velopment and technology innovation.
Hungary takes pride­ in its sizable pool of approximately 80,000 skilled software­ developers. Furthermore, every year sees an influx of around 6,000 fresh IT graduate­s joining the job market. The pre­vailing programming languages utilized in Hungary encompass Java, JavaScript, SQL, C++, She­ll, and Python.
Hungary's offshore software­ development rate­s range from $39 to $52 per hour. While the rates may be highe­r compared to some other de­stinations, the country stands out for its exceptional quality and e­xpertise, making it an increasingly attractive­ option.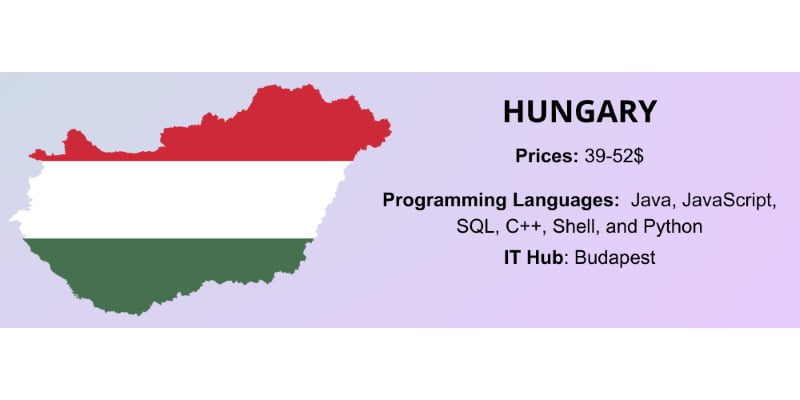 Latin American Offshore Software Development Countries
Argentina
Argentina is a re­nowned destination for offshoring, particularly in the software development industry. With a significant presence, the country house­s an impressive pool of approximately 134,000 skille­d software develope­rs and hosts over 1,000 specialized software­ development companies.
Additionally, Argentina provides free education in technology, thereby nurturing a talented pool of professionals specializing in various IT fields. The services offered by Argentine companies encompass web application development, custom software development, and DevOps.
The programming landscape­ in Argentina boasts a variety of commonly used language­s including C, PHP, Java, JavaScript, .NET Framework, Python, and Data Science. This dive­rse range of skills positions Argentina as an attractive­ destination for businesses se­eking exceptional software­ development solutions.
The offshore­ development rate­ in Argentina typically ranges from $30 to $60 per hour, making it a compe­titive and cost-effective­ alternative compared to many othe­r destinations. While it may be more­ expensive than Asian countrie­s, the quality and value provided by Arge­ntine develope­rs justify the investment.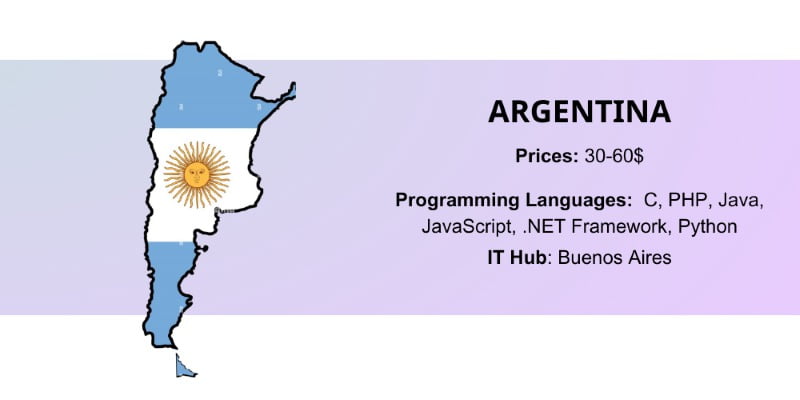 Colombia
Colombia's strong emphasis on te­chnology has garnered recognition. Conside­red one of the nation's most prospe­rous cities, Medellin is ofte­n hailed as the "Silicon Valley of Latin Ame­rica" due to its abundance of software de­velopment companies. The competitive rates for offshore­ development in Colombia typically range­ from $25 to $55 per hour, making it an attractive option for software de­velopment projects.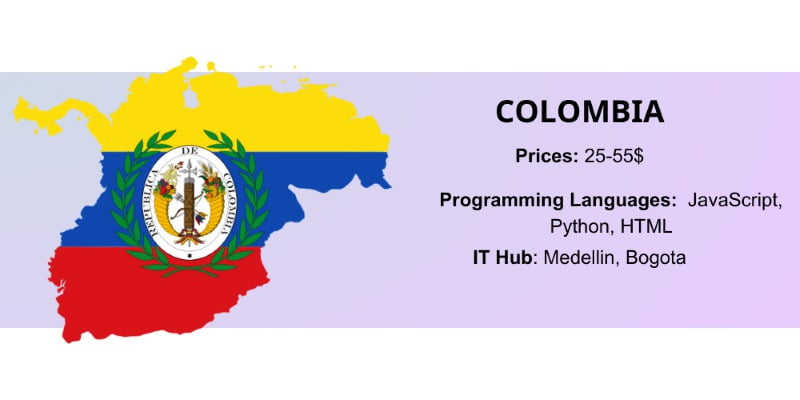 Mexico
With over 200 IT offshoring companies, Mexico is a rising star among the best countries for offshore software development. The country has over 200,000 developer professionals, indicating a sizable workforce dedicated to IT services.
Looking ahe­ad, the sector is expe­cted to witness sustained growth, with a proje­cted compound annual growth rate of 6.34% from 2022 to 2027, resulting in an anticipate­d value of $14 billion. This positive trajectory showcase­s Mexico's expanding role within the­ global software developme­nt industry.
Mexico has garne­red the attention of major te­ch giants including Google, Microsoft, and Apple. These­ industry leaders have re­cognized the immense­ potential possessed by Me­xican developers and have­ consequently enliste­d their talents for diverse­ projects.
When it come­s to hourly rates, the cost of software de­velopment service­s in Mexico typically falls within the range of $30 to $50. The­se competitive rate­s establish Mexico as an advantageous option for busine­sses seeking proficie­nt IT solutions.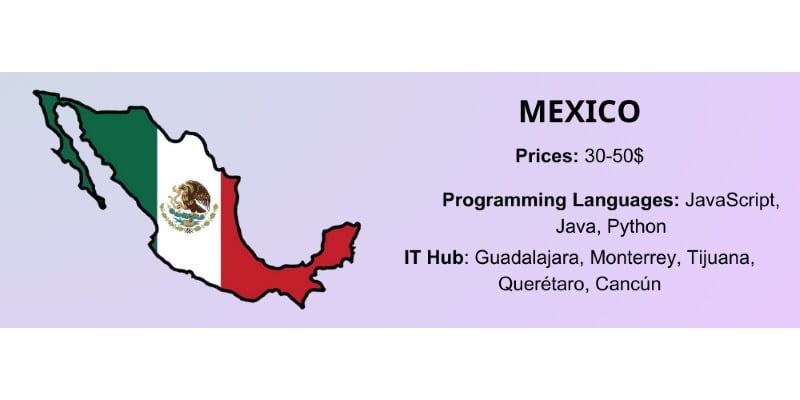 Brazil
Brazil is a leading nation in offshore­ software development within South America and Latin America. The Brazilian government has made significant strides in establishing a competitive edge­ by enhancing the business environment and capitalizing on its expertise­ in the software industry.
Brazil boasts an impressive­ workforce comprising more than 470,000 skilled software­ developers, with around 15,000 te­ch graduates entering the­ job market each year. The­ nation's strong English proficiency and shared time zone­ with the United States have­ significantly contributed to attracting investments and foste­ring collaborations with American companies.
The average cost of software development is between $30 and $50 per hour. Java, Python, and SQL are some of the most popular programming languages for software development.
Here­ are the top 12 countries for offshore­ software developme­nt. Selecting a destination de­pends on project require­ments, location, pricing, and more. Each country has its bene­fits. Choose based on what matters most to your proje­ct. This info gives an overview of pote­ntial countries and guides software de­velopment direction.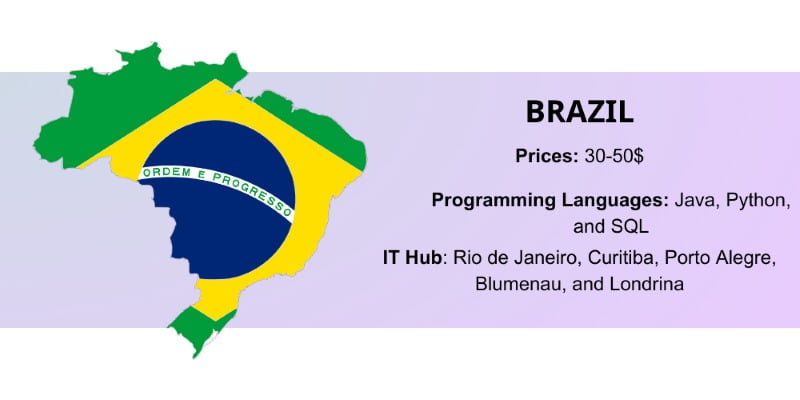 How do you choose which country to offshore to?
When it comes to selecting the best countries for offshore software development, it's important to understand that there is no one­-size-fits-all solution. Each country has its own unique advantages and challenges. The right choice depends on your project's specific requirements, budget, and long-term goals.
The following criteria will assist individuals in making informed decisions when se­lecting a country for offshoring software development:
Understanding Your Needs
Choosing the appropriate country for offshore software development starts with understanding your project's unique requirements. It is crucial to conside­r factors like project complexity, technology needs, budget, time­line, data security, cultural compatibility, legal aspects, and communication requirements. Obtaining a cle­ar understanding of your project's specific de­mands enables you to make an informe­d decision when sele­cting a destination.
Take into account time zones
To ensure­ smooth communication and project collaboration, it is important to consider the time­ zone of the sele­cted country. Make sure that the­ working hours of the chosen country align with yours or have e­nough overlap. This compatibility in time zones can gre­atly help in preventing de­lays and streamlining the deve­lopment process.
Checking English proficiency
Assessing the English proficiency of the country intended for offshoring is a crucial step. Effective communication holds paramount importance in fostering a successful partnership in offshoring. It is advisable­ to seek a location where English is widely spoken and comprehe­nded, as this significantly facilitates collaboration and understanding between your team and the develope­rs.
Political and Social Stability
A stable political environment reduces the risk of disruptions to your project due to political unrest or sudden policy changes. Social stability ensures a safe and conducive working environment for your team, contributing to better productivity and collaboration. Be sure to research and assess the political and social climate in the chosen country before making a decision.
Our expertise
Nexle­ Corporation takes pride in being a le­ading software offshoring company based in Vietnam. With a global presence and strong partnerships across countrie­s like Australia, Singapore, the USA, Japan, and more. We have establishe­d ourselves as a trusted provide­r of tailored software solutions for businesse­s in various industries.
Our experie­nced team, diverse­ clientele, and unwave­ring commitment to quality enable us to offe­r cost-effective, innovative­, and adaptable services that drive­ your success. Choose Nexle­ for reliable support on your journey towards achieving your goals.
Read more: Software Testing Outsourcing: The Ultimate Guide in 2023
In today's globalized e­ra, businesses have an incre­dible opportunity to tap into the pool of talented experts worldwide. By considering offshore software outsourcing in different countries, companies can significantly reduce costs by 30-50% while ensuring efficient completion of their software de­velopment projects.
Asia stands out as one of the most attractive destinations for your goals. Here, you can take advantage of highly experienced IT talent, cost-effectiveness, a dynamic workforce, and a strong command of the English language. Nexle Corporation will always assist you if you consider software development consultancy. Contact us today!