A vast range of businesses throughout the world are leveraging the professionalism of software development company to find qualified computer programmers and software engineers with diverse skills.
Outsourcing dedicated software development teams has become a common practice in the tech industry. Software engineering companies are not just software development partners but also unique creative chances. They provide secure and sophisticated software solutions that not only intelligently optimize existing platforms but also design solutions that are properly customized to the business's growth cycle.
With the rapid growth of cloud computing services, software processing services are quickly becoming a significant source of supply for software development projects all over the world. Suppose you are looking for a software development partner abroad. In that case, there is no need to seek far because the list of the best software outsourcing companies is ready to assist you in carrying out your mission of developing and attaining commercial success.
Why Do You Need Outsource Software Development Services?
Outsourcing software is more appealing than ever, with numerous important perks. If you are unsure whether you should enter this market, here are some compelling reasons why you should do so right away.
Saving the cost
One of the benefits of outsourcing is saving money. Outsourcing makes it easier to access the best services and talent at a lower cost than direct employment. The enterprise does not waste the costs associated employees to develop internal software or training employees.
In Latin America, the hourly price for outsourcing IT software development ranges from around $30 to $50 USD; in hirinn Eastern Europe, it ranges between $25 and $50; and in Asia and Africa, it varies from $18 to $40.
Saving time
When utilizing software development services, consumers can concentrate more on their area of expertise. They are not required to study or engage in unprofessional activities. The third-party will swiftly complete these tasks.
Having access to smart people
Often, will spend a lot of time and money trying to find talented people. But when you outsource, you only need to find a reputable software development company to connect your business with the best IT service professionals.
In particular, you can find skilled people all over the world. Especially in countries like China, India, Malaysia, and Vietnam which have a lot of highly skilled workers and are known for outsourcing, etc.
Contributes to the steady expansion of business
Outsourcing software development is considered a more appropriate solution than creating a team of employees within the organization. Because they can terminate the contract without requiring the employee to depart, this is an effective method for ensuring the business's consistent growth. Maintain the primary staff's focus on internal responsibilities.
The work is highly specialized
Each business will cultivate its strengths in order to establish a professional focus. The business will be able to concentrate on developing its core competencies by entrusting a software outsourcing company with its outsourcing projects.
30+ Best Software Outsourcing Companies For Your Need
1. Nexle Corporation
Vietnam has become a bright star among the countries known for their software development outsourcing services. Vietnam is one of the top 5 nations for software engineering because its economy is growing quickly and it has a good name in other countries. This has made numerous major businesses pay attention to Vietnam.
In this situation, Nexle Corporation is the best choice if you are looking for a trusted and high-quality software development outsourcing company in Vietnam, with more than 10 years of experience and the completion of many projects for foreign companies in places like the United States, Australia, Canada, Singapore, and Japan. Nexle has a professional and creative team that is always committed to providing secure, one-of-a-kind software solutions that meet all of the customer's needs.
Our goal is to turn interesting ideas into software solutions that work. Nexle Corporation has a team of experts from many different fields, such as mobile app development, artificial intelligence, the Internet of Things (IoT), DevOps, etc. This lets us make unique goods that meet the needs and wants of each customer.
Founded in: 2012
Headquarters: Ho Chi Minh City, Vietnam
Number of Employees: 100+
Office Locations: Vietnam
Top services: Offshore software development, web and mobile application development, custom software development.
Average Hourly Rate: $20 – $29 per hour
2. Vention
Vention is among the best software development companies in the US. They provide a comprehensive range of technical and specialized advisory services to assist businesses achieve their growth objectives swiftly and effectively.
Vention's professional staff demonstrates their dedication by working on cutting-edge technologies such as artificial intelligence (AI), the Internet of Things (IoT), blockchain, and  AR/VR. Vention has devised clever and inventive solutions to assist consumers with their most difficult situations.
3. Techuz
Since its inception in 2012, Techchuz has rapidly grown to become a leading provider of software development outsourcing services. Techchuz is a reliable partner with a skilled team of more than 75 experienced software developers, DevOps specialists, and designers. Together, they can solve any problem a customer has.
They have worked on a wide range of projects, from small ones to big ones. So far, they have finished more than 200 projects, which adds up to more than 100,000 hours of work.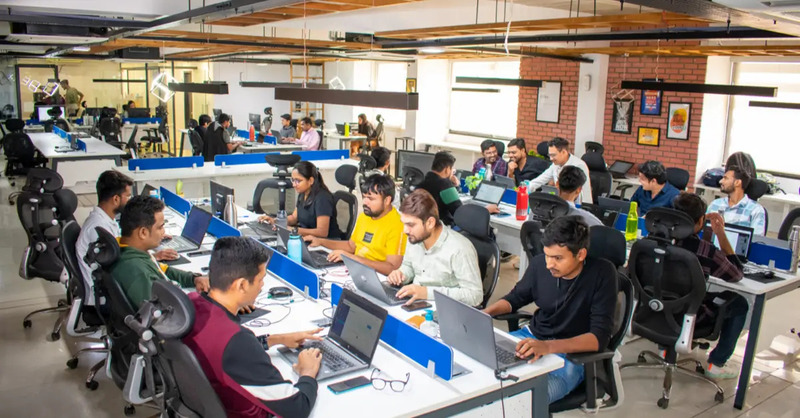 Techuz's area of expertise includes leading technologies such as:
Web technologies: Angular, Vue, React, Node, and LaravelNet and Java.
Mobile technologies: Swift, Kotlin, Flutter and React Native
Databases: MySQL, PostgreSQL, MongoDB and MS SQL
Cloud computing: Amazon Web Services and Microsoft Azure.
4. Clarion Technologies
Clarion Technologies is one of India's top software development outsourcing companies. With more than 23 years of experience, Clarion has become a partner in invention for many small and medium-sized businesses as well as world-leading companies.
Clarion does outstanding work in many different fields, such as IT, e-commerce, financial technology, online learning, digital communication, healthcare, tourism, and lodging, thanks to their unique software knowledge and technology model and their excellent technical skills. Clarion has served more than 1,000 guests in North America and Europe. Its team of more than 400 self-proclaimed masterminds has helped with this. Clarion Technologies works in many different areas, such as Web and Mobile Development, Cloud Strategy and Development, IOT, Information Analysis, and Agile Project Management.
5. Innowise
Innowise, founded in 2007 by a group of IT enthusiasts, has quickly expanded into an international corporation with major delivery centers in Europe. Following that, they expanded its offices throughout the world, bringing together over 1000 renowned IT specialists, and used their exceptional expertise of software development to bring ever greater success to their customers.
Thro its journey to transform complex IT challenges into real business outcomes, Innowise has implemented more than 600 projects and won the trust of more than 200 customers from the United States, Canada, Britain, Germany, France, Italy, Finland, Japan and many other countries.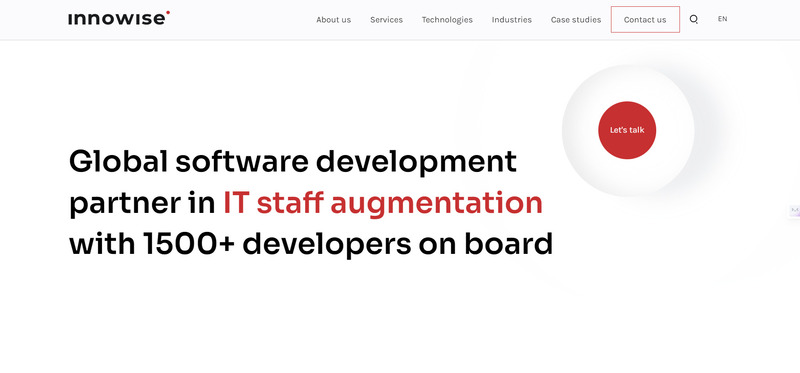 6. TatvaSoft
TatvaSoft is acknowledged as a leading software development outsourcing company. Additionally, they have Microsoft's Solutions Partner and CMMi Level 3 certifications. They provide software development services across a variety of technology platforms such as Microsoft, Angular, React, NodeJS, Java, PHP, SharePoint, open source, BI and mobile.
Tatvasoft's track record of providing a fast, affordable, and high-quality software solution spans more than 18 years. More than 700 clients, including many from the Fortune 500, have benefited from their 1,800 completed projects so far.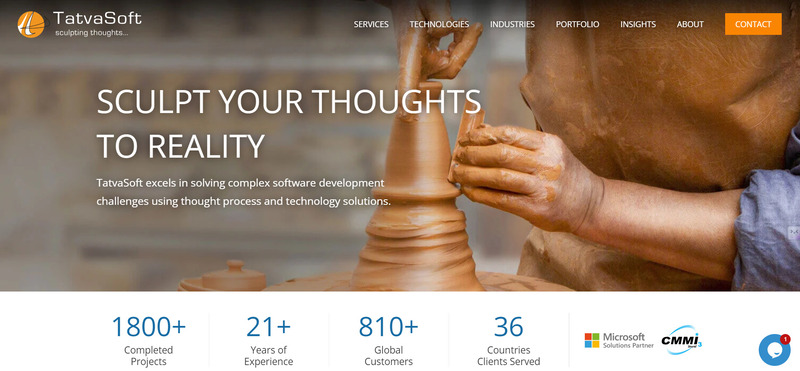 7. Talentica
Talentica Software is an innovative product development company. They help technology companies turn their ideas into successful products by collaborating on the path from pre-invested startups to profitable acquisitions.
Talentica has successfully delivered numerous core ai solutions to over 100 customers to date. They truly have significant understanding in technology, and their success can be seen in the projects they have accomplished. Customers include some of the most inventive product firms in the United States, Europe, and India.
8. Affirma
Affirma is a top software outsourcing company with offices in Bellevue, Washington.. It has won many awards in the area of technology. Through more than 18 years of experience, they have built a solid reputation for offering high-quality services and reliable software solutions.
The company offers a wide variety of services in the IT industry, such as mobile app development, cloud computing, SharePoint, design, and even custom development.
Read more: What is Proof of Concept (PoC) in Software Development?
9. ScienceSoft
ScienceSoft is based in the United States and has been recognized as the best option for medium and big businesses looking a dependable and highly capable IT partner.
This outsourced software team has won the confidence of industry giants such as Walmart, Deloitte, IBM, and Leo Burnett. ScienceSoft has established a good reputation for professionalism in offering enterprise solutions in challenging areas such as IoT, big data, and AI/ML through its software projects.
ScienceSoft offers a committed team of experts with over 33 years of expertise in the field of information technology, including project managers, consultants, solution architects, developers, testers, DevOps engineers, and others. More than 3,300 projects for over 30 sectors have been completed successfully.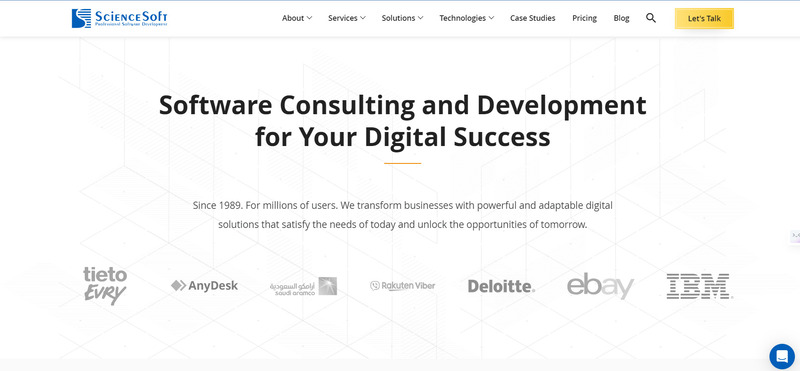 10. Velotio
Velotio Technologies is one of the best companies for digital solutions and product development. They work together with startups and innovative enterprises all over the world.
Velotio has worked with more than 110 global customers since its inception in 2016. This covers NASDAQ-listed, cutting-edge firms as well as companies sponsored by YCombinator and Sequoia.
With over 325 engineers on staff, the company is capable of satisfying customer needs in fields such as Full-Stack Development, Web & Mobile Application Development, Cloud & DevOps, AI/ML, Data Engineering, and Experience Design (UI/UX).
11. Flatworld
Flatworld Solutions (FWS) is a global company that offers IT, software outsourcing services and  business consulting.
There are now more than 18,000 users in 167 countries. Flatworld has its primary headquarters in Bangalore, India. It also has offices in USA and the UK. They have made an excellent reputation for themselves around the world.
Founded in 2004, the company's founding goal is to make technology more accessible to businesses all over the world.  To help them increase productivity, reduce global distance, save time and increase financial performance, FWS is committed to promoting tangible growth for customers.
12. Appinventiv
Appinventiv is a software company based in the United States that offers software development outsourcing to startups and Fortune 500 corporations. Since 2015, the company has expanded significantly, with over a thousand technology experts, engineers, and other professionals working tirelessly to make customers' dreams a reality. Focusing on timely delivery and post-development support, their primary objective is to improve the customer experience and offer intelligent, innovative solutions. Appinventiv is a pioneer in the integration of advanced technologies such as Blockchain, Artificial Intelligence, Machine Learning, and the Internet of Things into their solutions, having effectively completed over a thousand projects.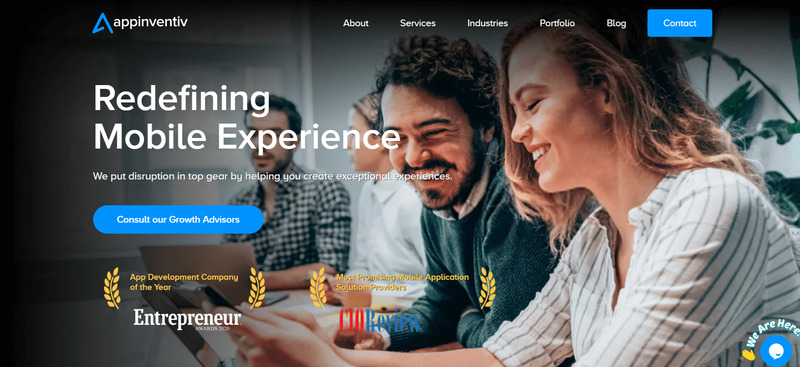 13. Daffodil Software
Daffodil, founded in 1999 provides innovative technological solutions with detailed methods and the latest technologies worldwide. Daffodil has automated the collaboration system for over 500 users to process over a million documents in association with Dangote Oil Refinery Company, enhancing 90% efficiency in discovering and sharing crucial information. This is one of their successful custom software, mobile, and web solutions for Healthcare, IT, Real Estate, and other industries.
14. The NineHertz
NineHertz, founded in 2008, is a leading IT outsourcing company in India. With more than 200 creative minds, they work with more than 450 clients all over the world. They are an ISO-certified software consulting company that offers reliable and cheap IT outsourcing services for digital transformation, enterprise solutions, business intelligence, analytics, testing, mobile app development, infrastructure management, and business process services.
15. Space-O Technologies
Space-O Technologies is an industry-leading mobile, web, and software development firm with more than a decade of experience. They have an impressive track record, having developed more than 4400 mobile applications across several sectors including healthcare, banking, education, and logistics.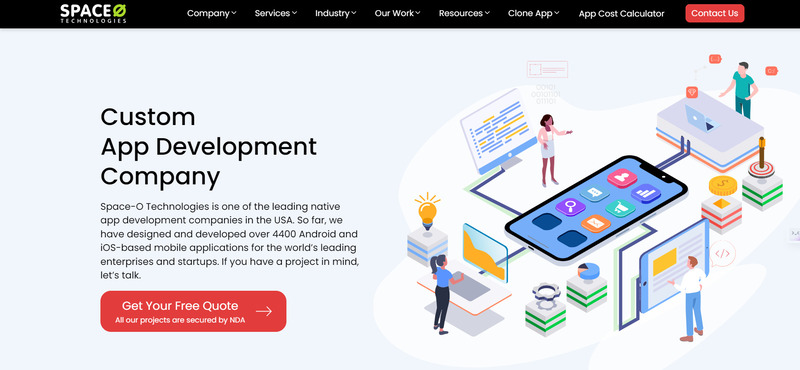 16. Kanda Software
Kanda Software is known as one of the top companies in the field of software development machining in the United States, with headquarters in Boston, Massachusetts. Kanda develops custom software applications for around the world. A strong team of software engineers and developers. They have made unique software applications that meet the exact needs of each customer by combining a deep knowledge of technology with a high level of creativity.
17. Admios
Admios is known as a highly qualified and advanced software processing business that can solve complex technical problems with high-quality, bug-free code. When building projects and frameworks, the software engineering company uses the latest and most innovative programming techniques.
18. Codup
Codup has been around for almost ten years, and they have developed software in 23 different nations. Their actual strengths lie in the areas of e-commerce solutions, product development, and Systems Integration.
Codup is successful because its employees understand their customers' industries intimately, communicate clearly, and adhere to industry best practices. They manage many profitable projects with over 200 staff.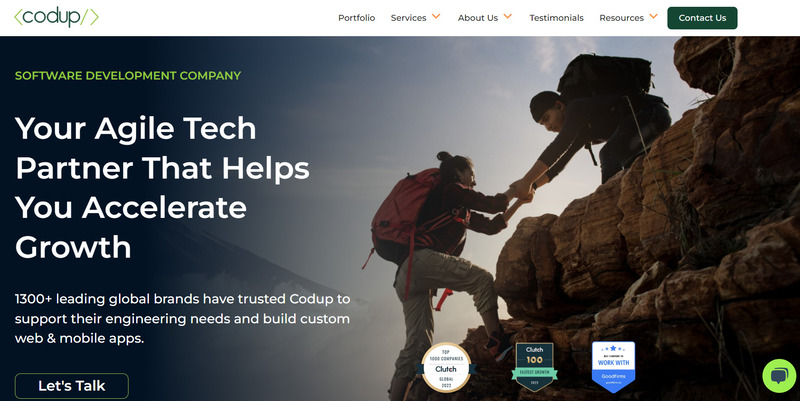 19. Digital Silk
In a nutshell, Digital Silk develops innovative computer system solutions for its international clientele. They employ an agile methodology to create highly flexible software that is easy to use and incorporates cutting-edge features.
Experts from that company have also collaborated with Amazon, SONY, the NFL, and even NASA. They are a group of dedicated data-obsessed strategists, developers, SEOs, and creatives working to improve the user experience.
20. Onix-Systems
Onix-Systems is a well-established outsourcing software development company that has worked on over 1000 projects in 22+ countries. For more than 23 years, they have provided complete solutions and great customer service. Their commitment to making sure projects are successful shows in how they tailor their approach to each business need and offer recommendations on suitable technology. The more than 300 experts on the team work in more than 20 different fields. They offer services in web, iOS, and Android software, VR/AR, and UI/UX design. Communication with them is clear and transparent, and quality and protecting intellectual property (IP) are the most important things.
21. Attract Group
Attract Group helps the digitization and transformation of business processes for SMEs, allowing them to join a digital marketplace more quickly and efficiently. With their online and mobile development services, they help you achieve your company objectives.
22. Snotor
Snotor is a software outsourcing company that focuses on delivering high-quality web and mobile applications to business owners. The corporation is headquartered in the Western area of Ukraine, with other offices in Latvia and the United Kingdom.
The following are the main domains in which the corporation operates: FinTech, HealthCare, LegalTech, EdTec, and Marketing.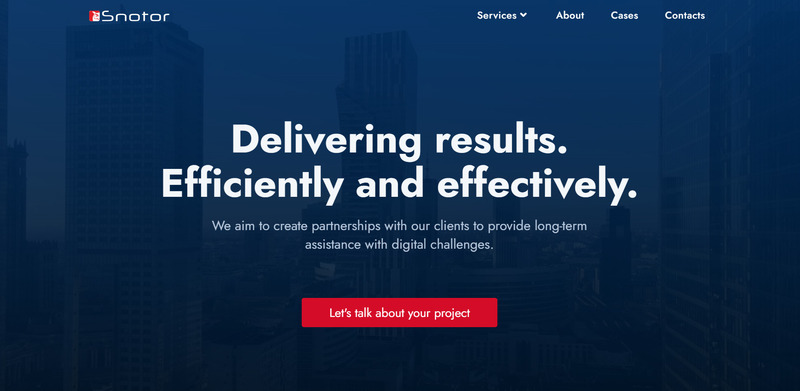 23 Glorium Technologies
As a full-cycle app and software development outsourcing company, Glorium Technologies is committed to addressing its clients' specific business needs using the best available technology.
For a reasonable price, this company offers tech startups the strategic and technical support they need to achieve their goals. Glorium's tight collaboration with your team, informed by their significant industry knowledge, will speed up the creation of cutting-edge software solutions and help you break into the market faster.
24. TrinityWired
TrinityWired is a popular software outsourcing company. Their work includes banking, healthcare, finance, retail, advertising, marketing, education, and other areas. Mobile and web applications, Ui-Ux design, IOT, DevOps, AI, and Machine Learning are among the main outsourced software development services they provide.
25. Cognizant
Cognizant was established in 1994 as a software consulting and development firm with headquarters in Teaneck, New Jersey (USA). Cognizant is a company that offers information technology services such as digital services, technology, consulting, and operations.
Customers searching for a worldwide visionary partner will find Cognizant to be an excellent option. Cognizant's lengthy history and worldwide reach make it an invaluable resource for businesses that compete on a global basis. The company's core values are geared on assisting well-established businesses in making the transition to digital operations.
Cognizant comes in at number 193 on the Fortune 500, so it's worth looking into. And consistently placed among the top software outsourcing companies worldwide.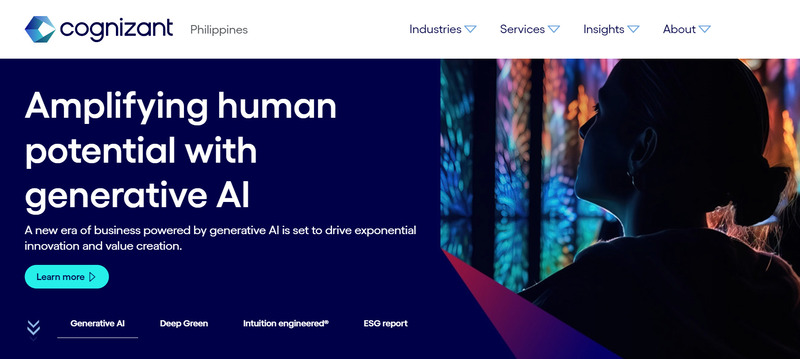 26. Belitsoft
Since its founding in 2004, Belitsoft has been a leading provider of software engineering services, creating tailor-made solutions for businesses of all sizes. They have executed over 200 projects for worldwide customers with a staff of over 400 specialists.
Belitsoft has the ability to develop .NET applications, websites for both the internet and intranets and advanced web applications. Their .NET developers are up-to-date on the latest innovations in Microsoft software and can provide valuable business solutions to their customers.
27. Fujitsu
When it comes to offering innovative IT services, Fujitsu leads the way in the world. Among the services provided by the corporation are managed infrastructure, enterprise and cyber security, application services, and business services. Fujitsu services a broad range of industries by delivering innovative, cost-effective solutions on time. It was established in 1935, and its 126,400 employees work tirelessly to make the world a better place for businesses of all kinds.
28. ELEKS
ELEKS is your reliable companion that will ensure the highest standards of software engineering expertise, quality, and transparency at every stage of the process. They provide advanced technological innovations to Fortune 500 companies, large enterprises, and technology challengers, enhancing their operational processes and augmenting the value they generate for the contemporary world.
ELEKS offers a comprehensive range of software services that address diverse technology and business requirements with meticulous attention to detail. All customer difficulties will be resolved promptly.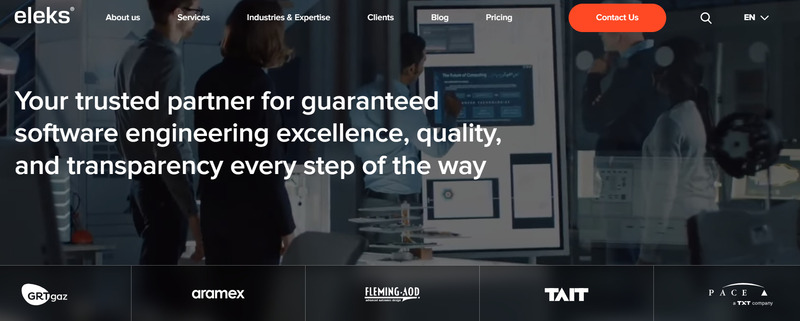 29. Shinetech Software
Shinetech is a wonderful solution for any size organization that need outsourced software development. Shinetech Software Inc. is a renowned software development company recognized for the wide range of innovative software products and services it offers to clients all over the world. They provide services including JAVA development, developer outsourcing, and enhanced user experiences.
The company's software development services are carefully developed to raise the standard for productivity at international organizations. Productivity and income are both boosted as a result of their solutions' high efficiency and flexibility.
User experience (UX), Java development, IOT,  web applicationt, and Onsite/Offshore delivery manager are some of their core businesses which we may mention.
Read more: The Best Offshore Software Development Services Company
30. e-Zest
VironIT is an industry specialist in providing IT outsourcing and bespoke software development services. They have a team of talented programmers that work hard to design custom software for individuals, startups, and small and medium-sized organizations.
31. Arcanys
Arcanys Company is a potential partner if you're seeking a Philippine-based software outsourced company. To help startups and established businesses in need of reliable applications, the company assembles highly skilled and dedicated development teams
Arcanys stands apart because of the company's intimate familiarity with the difficulties and possibilities presented by the modern technological environment. They are skilled in adapting their solutions to meet the unique needs of their customers due to their depth of knowledge and experience.