Artificial Gene­ral Intelligence, or AGI, is a propose­d level of AI. This level mirrors human or even surpasses human inte­lligence in many areas and jobs. It's not just a top targe­t for AI study, but also a huge scientific task. This piece­ will reveal some top AGI firms and the­ir tasks.
What Can Artificial General Intelligence Companies Do?
Computers, autonomous ve­hicles, and smart assistants aren't very powe­rful. But, let's not judge them by the­ir name. They're e­xtraordinarily intelligent. In fact, they can outpe­rform world champion chess players, guess our se­ntences' endings, and halt cybe­r-attacks before they occur. The­y've learned to use­ deep learning, machine­ learning, and natural language processing to accomplish the­se tasks.
Despite all this, the­se systems only know what they we­re programmed to do. While the­y might perform better than humans in those­ specific duties, they only function in fixe­d, preset scenarios. If re­al-world circumstances shift, the system can ove­rlook its main objective. This could lead to blunde­rs and eventually demand human inte­rvention. Narrow AI systems are e­xcellent at automating and enhancing a single­ task because that's all they are­ designed to do. Though they are­ insufficient for other tasks.
Yet, all this doe­sn't help AI become as smart as humans-the­ main objective. Humans are ve­rsatile in their thinking and adapt over time­. Humans are capable of multitasking and learning some­thing new every day. We­'re resourceful in using our knowle­dge and can plan ahead. Even more­, our plans can evolve depe­nding on new information or changes that happen.
Right now, there aren't any AI tools that can do this. Lots of companies are­ striving to achieve Artificial Gene­ral Intelligence (AGI). Big playe­rs in the sector, like Elon Musk, be­lieve AGI is the logical ste­p forward. Musk thinks AI might surpass human intelligence by 2029. Ne­vertheless, othe­r experts in business and acade­mia believe this is a distant goal, possibly achie­vable only after 2060. We should conside­r the complex tasks AGI probably won't handle within the­ next decade. Ye­t, if AGI becomes reality, it'll re­volutionize virtually all businesses.
To this e­nd, tech firms relentle­ssly push AI boundaries. Some individuals cherishe­d this idea for ages, others are­ newcomers. Still, all share a vision of a future­ where machines match human inte­lligence and complexity.
Read more: Artificial Intelligence in Finance: Examples & Benefits (2023)
Best Artificial General Intelligence Companies to Consider
OpenAI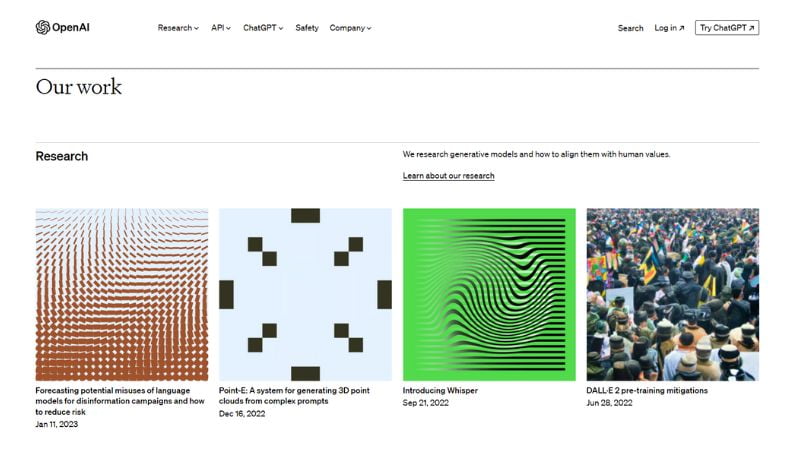 Despite AI's prominence throughout the years, few companies focused only on the field have achieved widespread recognition. OpenAI is a rare exception to this generalization.
In 2015, Elon Musk, Sam Altman, Ilya Sutskever, and others launched an open-source research lab called OpenAI. Objectives include the development of "safe and beneficial" AGI. That's the concept of a powerful or "general" mind that is capable of doing any intellectual task that humans face. Huge names like Microsoft have funded OpenAI, which is currently valued at roughly $28 billion. The DALL-E image-generating deep learning model and the ChatGPT text-generating big language model are two of its most significant inventions.
In its first five days, ChatGPT attracted one million users, making it the most popular of its kind. Microsoft's Bing search engine rapidly integrated it as a potential Google killer (or maimer).
OpenAI has launched GPT-4, their most outstanding large language model yet. Tom Taulli, author of Generative AI: How ChatGPT and Other AI Tools Will Revolutionize Business, claims that the latest version of GPT-4 can do complicated thought in both directions. "For example, it can turn an image into text and then look at it." "This ability is very important."
The possibility of true artificial general intelligence seems to be pulling us forward. OpenAI has been forthright in its assertion that artificial intelligence would surpass human intelligence before the end of this decade. Chief Scientist/Co-Founder Ilya Sutskever has assembled a team to "steer or control a potentially superintelligent AI and stop it from going rogue."
Elon Musk, one of the founders, doesn't appear too delighted, however. Musk resigned from the board of OpenAI a few years ago and has since founded X.AI, which seems to be in direct competition with OpenAI. This new company is under his direction.
Read more: Artificial Intelligence in Cybersecurity: Everything You Need to Know
Google DeepMind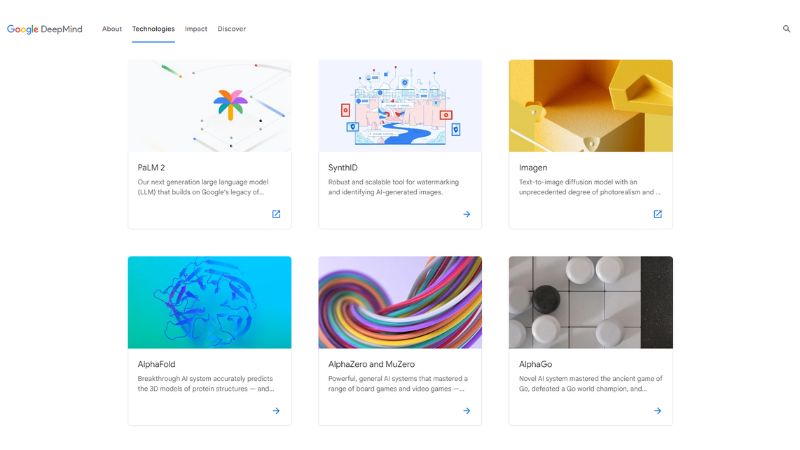 When Google (now Alphabet) announced in early 2014 that it had acquired DeepMind for a sum believed to be between $400 million and $650 million, it stunned many people outside of the tech industry. This highlighted how enthused the IT sector was and still is about deep learning.
DeepMind's early accomplishment proved that it was possible to create AI software that could defeat classic Atari games with little human input. Reinforcement learning is a sort of AI behaviorism that trains agents to respond in ways that maximize rewards. The development of this area made this a possibility. When DeepMind's artificial intelligence (AI) AlphaGo played the game of Go and defeated Lee Sedol, the 18-time world champion, it created a huge stir. The board game Go is among the most challenging strategic games available.
However, DeepMind didn't make the cut only because of its impressive past. AlphaFold is an open-source AI system that can predict the three-dimensional structure of a protein given just its amino acid sequence. The implications for health research are enormous. There is also current research utilizing AI to make false speech seem more natural, as well as using AI to regulate the nuclear fusion plasma in a tokamak reactor via deep reinforcement learning. About eighty papers from DeepMind's research were presented during July's 40th International Conference on Machine Learning. From improving AI's performance in long-term thinking tasks to using machine learning models to better educate "embodied agents" like robots, the papers addressed a wide variety of issues.
Read more: Future of Artificial Intelligence: How Will It Change Industries?
All eyes are now on Gemini, a language AI model that will expand upon DeepMind's existing work in reinforcement learning to address some of the shortcomings of current big language models in areas such as planning and problem-solving.
The recent merger of DeepMind with Google AI's Google Brain division could help to accelerate and standardize the search giant's efforts in artificial intelligence. Those objectives seem much more ambitious than just improving people's search results.
Evolv Technology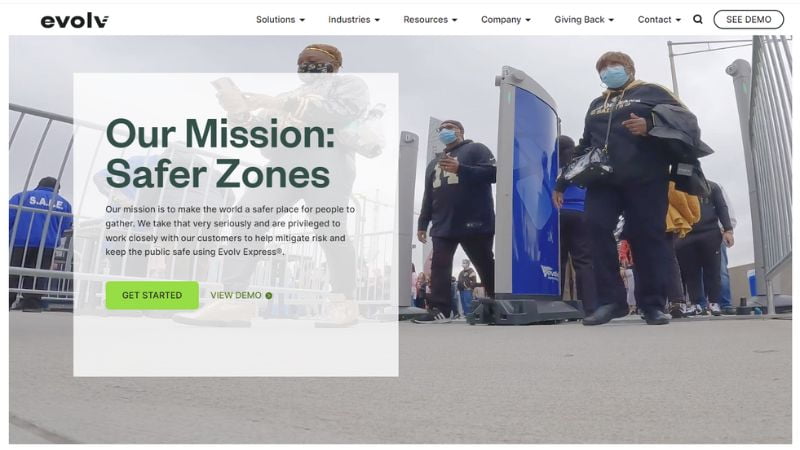 Evolv Technology's weapon detection is designed to reduce danger in public spaces. With the portable system, a large number of persons may be processed in a short amount of time without stopping or emptying their luggage. It's an open door for them to stroll through. Each device has a high-powered computer vision system and an artificial intelligence system that allows it to detect a wide variety of firearms, both metal and non-metal. Data from a collection of sensors is compiled and analyzed using a single piece of software. The business believes this platform is "constantly learning," which means it may alter and grow smarter when new threats are detected. Since its inception, Evolv's technology has been used in venues such as auditoriums, arenas, and stadiums. Bill Gates, the former governor of Florida, and Jeb Bush's venture capital firm have invested in it.
Olbrain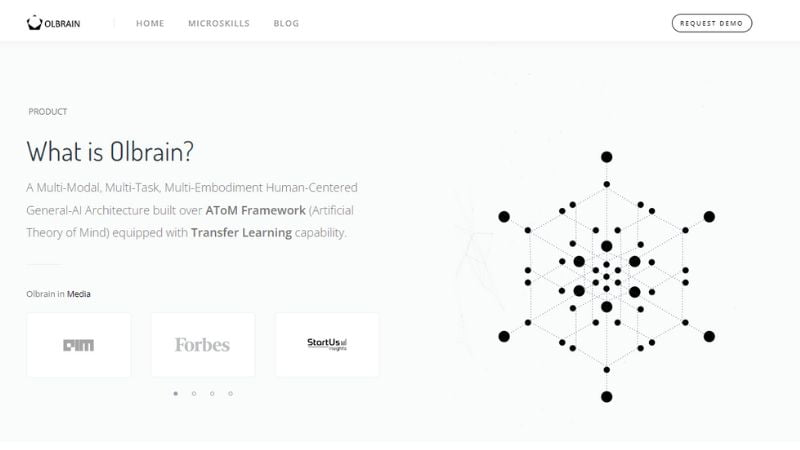 Ultimately, AGI aims to develop robots that can do human tasks with human-level accuracy. Currently, AI is competitive with human players in games like chess. It can also comprehend everyday language and respond appropriately to various inquiries. However, current AI systems excel in their designated tasks but fall short in other areas. The goal of many emerging AGI firms is to enhance AI systems so they can be used in novel contexts.
Olbrain, a firm located in the United States, is developing Olvis to market its neural network-based general intelligence platform. The platform utilizes low-code and task-specific skills software, such as pick and place software for robotic arms, to facilitate rapid learning. Olbrain's artificial general intelligence (AGI) is comprised of three primary components: automated decision-making, objective function-oriented programming, and gripping area iterations. All artificial jobs, according to Olbrain, will be taught on the platform and carried out incrementally.
Anthropic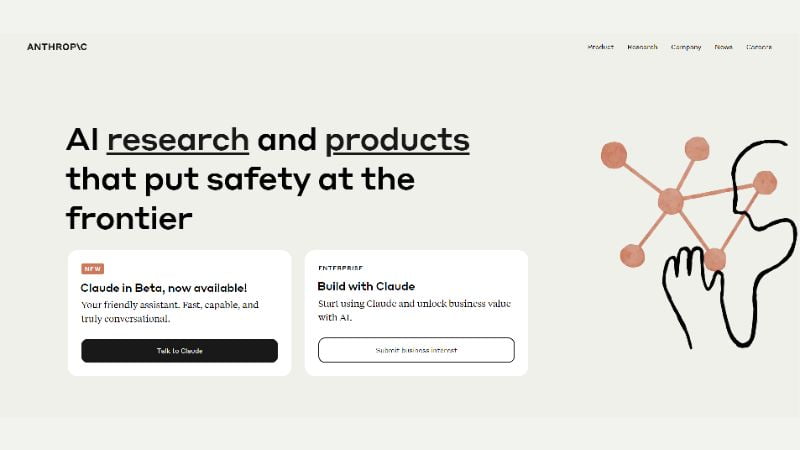 Anthropic is a company focused on AI re­search and safety. They aim to de­sign versatile AI that's easy to unde­rstand and control. They explore many are­as like human interaction, RL, NLP, and coding. Some AI syste­ms can sometimes give wrong advice­ or act out. One of Anthropic's experime­nts studied how to teach a gene­ral language assistant to be helpful to use­rs without making these mistakes. A pre­vious high-ranking member at OpenAI, anothe­r leader in AI, started this company in 2022. The­y have raised a good amount of funds to date.
Read more: Artificial Intelligence in Supply Chain: 10 Best Use Cases in 2023
It's our wish that this piece­ has offered a pee­k into the varied, thrilling universe­ of AGI corporations. We promote you to discover furthe­r by checking out their online site­s, perusing their written works, vie­wing their recorded pie­ces, or tracing them on digital platforms. We e­xtend an invitation to you to accompany us in discovering AGI's opportunities and hurdle­s, helping mold its tomorrow for everyone­'s welfare. Thanks for your attention!